The pastoral and tourism industries have varied and interesting stories to tell of the early years. The history of Curtin Springs stradles across both industries.
"Not long after we arrived in 1956, the heavens opened up and it rained 1 inch. Then it didn't rain again for 9 years!" Peter Severin
1930-1950's 
Like many Central Australian cattle stations, Curtin Springs saw many changes in the early years. The land at Curtin Springs was first taken up by Paddy DeConnley in the 1930's with a stock of sheep, and was known as Mt Conner Station. In 1940 it was leased to Abraham Andrews, who wanted to call the property 'Stalin Springs' after Joseph Stalin of Russia. Because his sons objected, it became known as 'Curtin Springs' after the late Honourable John Curtin, the then Prime Minister of Australia.
From 1956
In 1956, Peter Severin arrived with his young wife Dawn, their toddler son Ashley and 1500 head of cattle. Peter's brother Rollo and his family also arrived, but left very shortly afterwards.  They arrived in a Vanguard and a Bedford truck full of supplies and all their worldly possessions. At that point the station was 500 square miles then.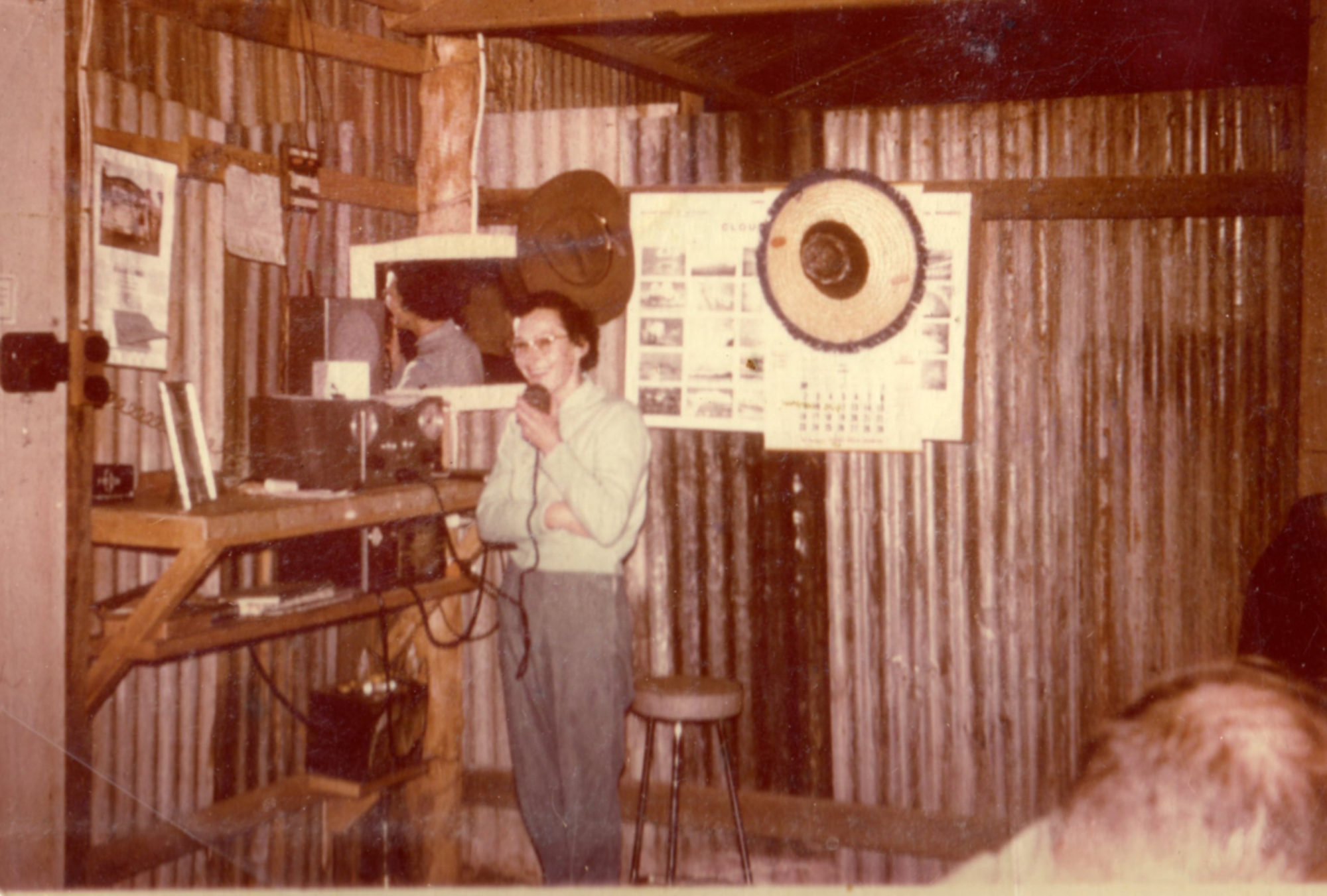 Family folklore says that after explaining to his young wife that this was where they were going to live, after which she replied, "Boy…I've got news for you and it's all bad".
Life was very basic, wood stoves for cooking and hot water – all year round. A tin room next to the Bough Shed housed the stove and kitchen area.
In that first year just six people drove past Curtin Springs while the second year saw a 50% increase – 9 people came to visit! For the first three years home was under the Bough Shed. Today it provides a dining area and a cool place for visitors to rest.
In the late 1950's pioneering tourist companies began the first tours to Ayers Rock. As a result, we began the endless batches of scones and cups of tea served to the tourists. Also, our cattle numbers and management methods changed over the years, as did the tourist facilities at the Wayside Inn.
Now
Curtin Springs is the place it is today, as a result of a lot of hard work, heartache, tears and joy and thousands of visitors.
Curtin Springs is over one million acres in size. Furthermore, it stands as a testament to the passion and commitment Peter,  Ashley and Lyndee Severin have made to the pastoral and tourism industries of Central Australia.
We hope that you enjoy our story and a little glimpse of the history of Curtin Springs.
1957
The first tours to Ayers Rock began once a week by Len Tuit.
1958
First Liquor license obtained. Must have beds for three people and stabling for horses
1958
Peter and Dawn installed a fuel dispensing pump and a 500-gallon underground tank
1959-60
A small grocery store was started. Dawn Severin began serving morning and afternoon cups of tea and scones.
Curtin Springs was the first tourist stop developed outside of Alice Springs.
A small grocery store was started. Dawn Severin began serving morning and afternoon cups of tea and scones
1958-1981
Over 100 bore holes drilled. Only 14 sites usable.
1961
Lowest rainfall on record - 2 inches.
1962-1963
Peter and Lofty built the original entrance way to the Ayers Rock National Park.
1963-1964
Peter Severin helped install the chain on the Ayers Rock climb
1964
Len Tuit increased to 2 buses per week from Alice Springs to Ayers Rock. A large number of other tour companies were running by this stage. First 'tourist' staff member employed for the winter 'busy' periods
1967
The Stone House was built, from stone quarried on the property.
1967
Drought broke, only 400 head of cattle left
1970s
Mustering changed from horseback to helicopters as a requirement under the BTEC (TB & brucellosis) eradication program
1974
Highest rainfall on record - 32 inches
1987
Ashley Severin travelled to UK & Europe for his Nuffield Scholarship.
Late 1980s
Mustering changed to water trapping
1980s
Budget accommodation and family rooms installed
2004
Accommodation increased to 27 rooms
2009
Commitment to change the cattle herd to Murray Grey, 1200 bush herd cows sold, 260 Murray Grey cows purchased
2014
Launch of new tours and experiences – Curtin Springs Paper and Curtin Springs Walks
2016
Highest rainfall on one day - Boxing Day 2016 - 158mm
2017
Launch of Curtin Springs Paper - Jewellery
2017
Opening of The Gallery at the Old Abattoir.
2017 Dec
Installation of the new commercial kitchen.
2018 Mar
The Artist in Residence program commences
2018
Installation of 5 new staff accommodation buildings
2019
Close of The Climb.