Handmade paper from our native grasses – a distinctively beautiful souvenir of Central Australia.
Curtin Springs Paper allows us to show you the intricacies of our home. The minute detail of our landscape and just how diverse and amazing it really is.
Curtin Springs Paper invites the desert to offer up its hardy ingredients to combine and make something beautiful.
Nature is literally transformed in this remote and special part of Central Australia. Here native grasses are harvested, pulped and pressed to create a distinctive and beautiful souvenir of Central Australia.
Native grasses and natural ingredients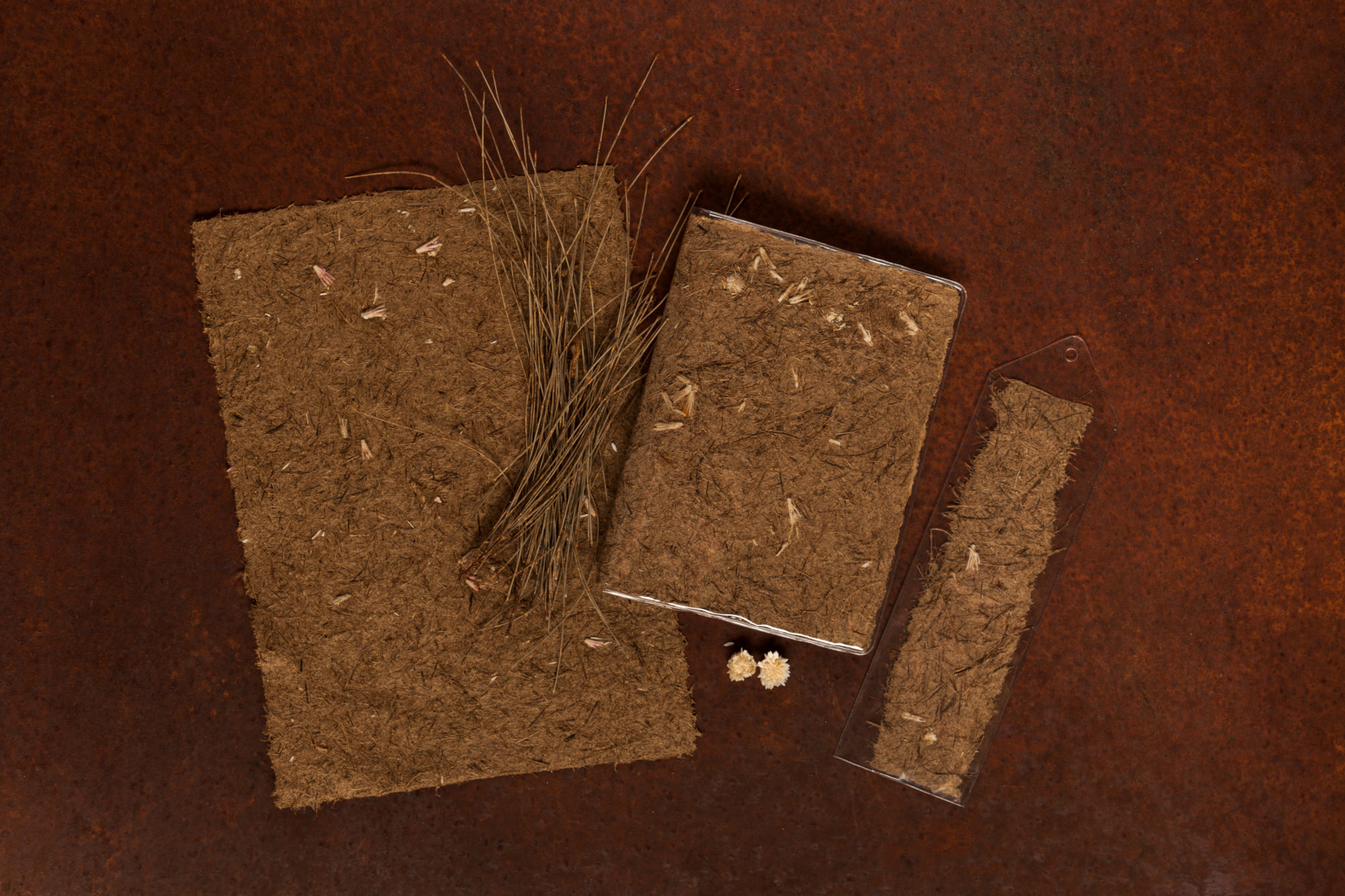 We harvest our native grasses by hand; using a pair of secateurs, a hessian sack and our knowledge of the Curtin Springs landscape.
Each type of grass creates a different texture and feel in the paper, whether it be spinifex, oat grass, woollybutt, kangaroo or kerosene grass. The different seasons also produce differences in the papers.
Therefore, each and every production run makes a quality paper that is unique and individually made.
In addition, we continue to experiment with blending and texture, using plants, flowers, clay, sand and cow poo as well as other things like the bangtails from the cattle.
The paper is suitable for an endless array of uses and we are investigating lots of them.
How you can you enjoy Curtin Springs Paper?
You can join one of our 1 hr Curtin Springs Paper Tours to share the wonders of our home and get to know our history, landscape and connection to the land. You can join our tours at 4pm daily.
Our Artist in Residence program. We have a range of amazing artists who have joined us, or will join us, during 2018/2019/2020.
For your information, this is a brochure about Curtin Springs Paper.
Check availability and Book Now
What else goes on?
The one thing we are always certain of here, is that there is always the chance to continue with change.
The art sector was always going to be interested in Curtin Springs Paper. But we weren't sure what that involvement would look like.
Amee Dennis (one of our next generation), came into the office one day. She said 'Mum, I think we can use our paper to make beads and the beads to make jewellery. I think this would really add to the story we are telling". So that's exactly what we have been doing.
Amee has a very artistic streak and is allowing her creativity to develop. Curtin Springs Paper – Jewellery is handmade, completely individual pieces of jewellery that are using Curtin Springs Paper as the focus. Have a look at what Amee is doing.
Not content with just one direction into the creative world, Amee has just held multiple exhibitions of artwork from Curtin Springs Paper.
We have opened The Gallery, which is our chance to showcase Amee's work, the work of our Artists in Residence and for visitors to experience the beauty of Curtin Springs Paper in a range of different mediums.
Spending time in The Gallery is part of the 1 hr Curtin Springs Paper tour.
Curtin Springs Artist in Residence Program
Our Artist in Residence Program started in 2018. – Artist in Residence Program.
Our program has seen Australian and International Artists spend time at Curtin Springs.
Our 2020 is currently at capacity. Please contact us if you would like to be considered for a program in the future.
For all the details including application process, dates and what it entails please see our Curtin Springs Paper – Artist in Residence Program Information Pack.
Paper making in the Old Abattoir
Where we make our paper might surprise and fascinate you. There is no big factory here, but instead a building where we pay homage and respect to our pastoral and family history – the Old Abattoir. Built in the late 1970's and decommissioned in the mid 1980's. You will be fascinated (as we have been) that the building and its features appear as though it has been built to purpose with it's sloped floor and separate cold room it is perfect for paper making.
We repurposed and recycled almost everything in the building from somewhere else on our million-acre station. This reveals the innovation and inventiveness that only remote living can bring!
We milled timber from desert oak trees to use in displays. It was important to us to find a home for these trees after they had been killed by bushfires.
The timber fence posts are the original mulga fencing posts from the 1950's. Peter hand-cut and hand-drilled these posts. They were part of the boundary fence until they were 'retired' to be used here.
The vat is an old bath.
The men manufactured the 15 tonne paper press from the framework of an old truck, old car springs, and a jack found 'down behind the shed'.
Shop Now